Safe • Knowledgeable • Reliable

Canadian Rockies Public Schools Transportation proudly and safely transports over 1,250 Bow Valley students to and from school, on field trips, to sports events and outdoor programs each day. 
Please find the area you live in on the route overview 
first, then the school and finally the route # and animal.
Please make sure you check routes again before school starts
as they may be subject to changes.
Route Details: 
Please be ready and waiting at your bus stop 5 minutes ahead of the time given. Special Needs please call the office at (403) 678-5545. 
Please note the animal on your child's bus pass is for the ride from school to home in the afternoon not for home to school in the morning! The morning route animal may be different than the afternoon route animal.
Canadian Rockies Public Schools offers an experienced and reliable school bus charter service for group events and travel needs in and around the Canadian Rockies. Taking advantage of our in-depth local knowledge of the area is a secure way to ensure your travel planning is performed  smoothly.
CRPS Charters specialize in youth, sports and hiking groups, convention, event and wedding shuttles, staff and church functions or virtually any other excursion you're planning in and around the Banff, Lake Louise and Canmore area and beyond. From large convention or wedding events to a family reunion with hiking in mind; we are able to customize to all needs.
Located in the spectacular Rocky Mountains in Canmore Alberta, at the border of Banff National Park, we live, work, and play here; and we know our area as only locals can. Let us show you!
When you charter a bus from CRPS Charters, not only do you receive a clean, late model bus at a competitive price; but you also gain the advantage of having a safe and professional driver who has personal  local knowledge and years of experience about the places you want to go, and the activities you want to do while you're here. Other companies simply can't match that.
With over three decades of experience in local group travel logistics our charter department can assist you with timing your itinerary or with creative ideas to help make your time in the Rockies extraordinary.
Convention Shuttles
Banff and Canmore are renowned as world-class convention destinations. Whether your organization is in town for a sales incentive, annual association conference, or a corporate retreat, it's always well received by guests to offer as many local options, as time allows; to experience the area and get beyond the hotel walls. There's fresh air and sunshine out there with lots to do and see.
School bus shuttles are an excellent and cost effective means of giving your delegates a variety of options to experience our area and interact with each other away from "business meetings".
Shopping, golfing, horseback riding, gondola and helicopter-sightseeing, hiking, dog-sledding, and "dine-a-rounds" of local restaurants are just some of the options that organizations, like yours, have offered their guests. CRPS Charters can make short excursion shuttles like these affordable and fun for your group.
Convention management is like a great many variables coming together against all odds. CRPS Charters understands that complexity and is flexible to alterations in "that perfect plan we had". We are here, with decades of experience, just for you, a call away or on-site to ensure the success of your convention plans.
Wedding Shuttles
This is Your Big Day!
A great deal of planning went into motion the second he bent his knee and asked "the Big Question" and you said..... "hmmmmm....YES"!!
What better place to "tie the knot" than in the Canadian Rockies. The mountains hold a special place in many people's hearts and marriage is a union of two hearts.
Guest wedding shuttles are a specialty of CRPS Charters. We absolutely love the excitement of your day and want to do our part to ensure that you and your guests will look back on the memories you shared that day with fondness.
Performing your vows in the great outdoors, in that special and personal scenic location surrounded by the Rocky Mountains has become a local tradition.
Providing your guests with an affordable means to travel together to your ceremony can make the day an extremely positive, fun and inclusive experience for all.
Whether large weddings or small CRPS Charters can help coordinate the movement of your guests to and from your ceremony, wherever "that special place" may be.
Wedding Reception Shuttles
Wedding receptions are often held at a locations away from where your out-of-town guests are staying, and school bus charters are a cost effective way to ensure everyone has a means of "getting home safely".
CRPS Charters are much more economical than ordering taxis and we are flexible to your reception planning.
Contact us today for a quote or enquiries!
Location: 111 Boulder Crescent Canmore, AB T1W 1L4
Phone: (403) 678-5545
Fax: (403) 678-6300
Email: CRPSTransportation@crps.ca
Or complete the online form to apply for a group charter bus quote!
It's always a great day for a school field trip!
CRPS' Transportation Department is proud to take students safely on over 1,000 school field trips every year.
Our communities are enviable places to gain an education and our school trips truly connect learning to the mountains, allowing unparalleled access to incredible outdoor experiences, natural and historic places, and sports activities. We really are fortunate.
Our school trips are about skiing, hiking, canoeing, rafting, outdoor leadership, sports competitions, nature science studies, parks, historic sites, and cheering on World Cup events - to name just a few. We take the classroom outside on field trips and help students experience and develop an appreciation firsthand of the Canadian Rockies, shaping lives in the process!
CRPS' Transportation Department is pleased to work with our teachers and coaches to provide educational experiences at CRPS that are second to none.
For online trip booking (Traversa) please follow the link and log on using your user name and password: 
Watch this video following video for instructions on how to book a trip online using Traversa.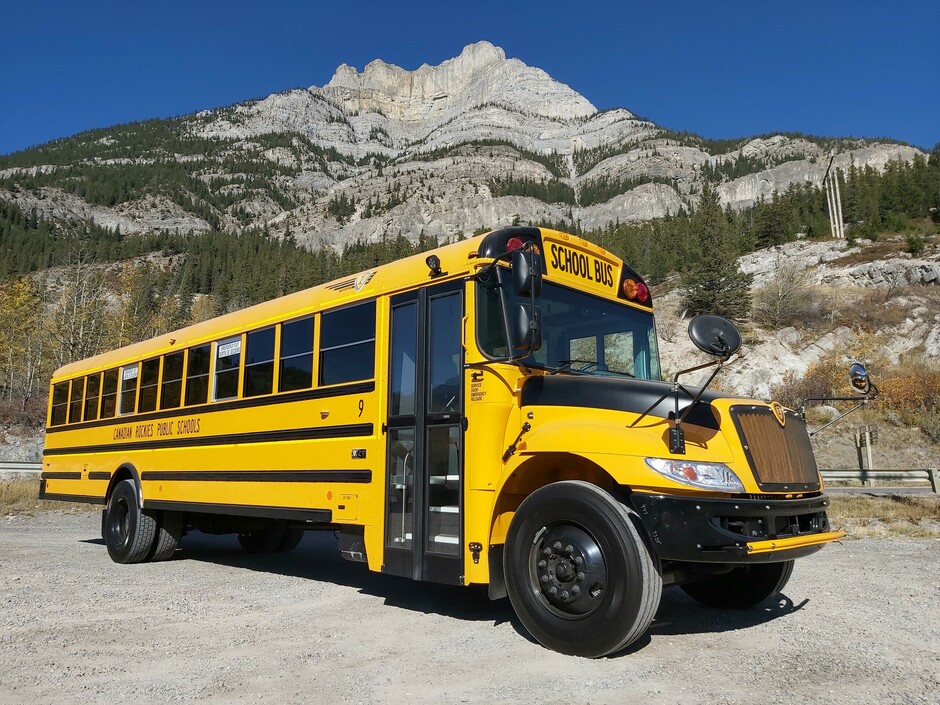 School bus technology has come a long way over the years in providing advanced comfort and safety features. Today's buses offer larger windows, more headroom, comfier seating, and are equipped with much more powerful, yet environmentally friendly engines, which provide better fuel efficiencies and much lower harmful emissions. CRPS' Transportation Department is proud to offer a modern fleet for the schools of the Bow Valley and our valued charter customers.
Our regular investment in fleet modernization reflects CRPS' strong commitment to premier service and offers our passengers a safe and comfortable travel experience while simultaneously minimizing our environmental footprint in the Canadian Rockies.
Always the best choice in the Canadian Rockies!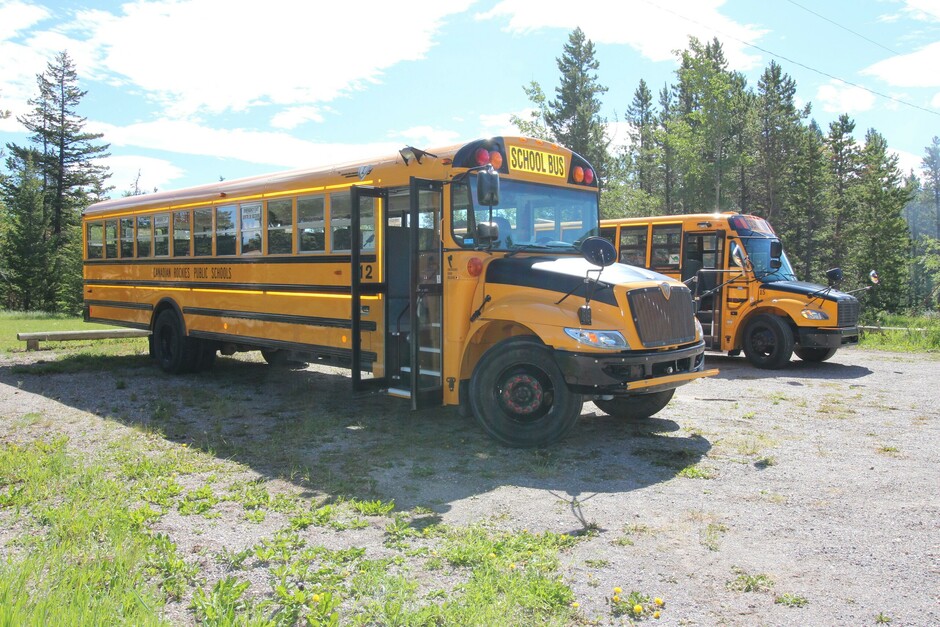 We believe in what we do! From the Superintendent of Canadian Rockies Public Schools to the staff of every department, CRPS resonates a genuine commitment for the safety of our students, whether on the road or in class. Safety and maintenance have always been the foundation of our bus operations; they are visible in our people and in our safe, reliable, and well-maintained vehicles. 
For over 30 years CRPS has safely transported the students of the Bow Valley to and from school and on their field trips without any serious incidents - not even one! That is a remarkable achievement and it speaks volumes about the culture of safety, our staff, and our dedication to operating a well maintained and reliable fleet for our passengers.
Driver Training
We believe our passengers deserve a safe and professional driver and that's who they get with CRPS.
The key to that promise is finding the best people, with the right personalities, training them for success, providing the safe equipment and tools they need, and creating a supportive atmosphere to flourish and develop in. When these elements are realized they encourage long-term engagement, and consequently very experienced employees who've progressed far along their paths of professional development; they are, the safe and professional drivers that we promise. The CRPS Transportation Department is licensed to train the MELT (Mandatory Entry Level Training) program for the required class of license to drive a School Bus.
Our analysis of training priorities was developed to counteract the aspects of risk associated with the responsibilities of drivers. That sounds pretty simple until you accumulate a list of those responsibilities.
For example, school bus drivers are mechanical bus inspectors, professional defensive drivers, on-board student managers and safety providers, first-aiders, special needs passenger specialists, government compliance facilitators, record keepers, conflict mediators, routing specialists, bus cleaners, and list goes on. Theirs is a job where thinking on your feet and reacting to changing traffic or human circumstances is commonplace and that's where CRPS training strategies support our drivers making the right decisions every time.
Our training programs are focused on real-life school bus driving, always ongoing and never end. They challenge our drivers to continuously improve, and we monitor our drivers to ensure there are no gaps in their competencies.
Preventative Bus Maintenance
Whoever said "if it ain't broke don't fix it" never worked at CRPS Transportation (or took English class), because our preventative maintenance program is designed to identify mechanical problems at their earliest stage and correct them before "they break" and impact safety. Proactive inspection and professional maintenance of equipment is the foundation of our reliability and safe bus fleet.
The school bus industry is extremely regulated. There is simply no room for error. Mandatory inspections form an important component of those regulations and we take that responsibility to heart. Inspections are the best tool in finding potential problems at their earliest stage so they can be resolved without developing any further.
Inspect – Identify - Rectify
Driver Inspections
CRPS drivers play a vital role in the inspection of our buses.
Drivers are trained do a compulsory and documented inspection of their bus every day before they leave the yard and again afterwards.
They become very familiar with their bus and how it normally performs and are often the first people to become aware of something out of the ordinary that may need attention.
Quarterly Mechanical Inspections
Detailed and documented inspections are conducted on every CRPS bus by journeyman mechanics every 3 months to gain a complete determination about the condition of every component. Regular service is performed on items like oil and various filters and any aspect of the mechanical systems that needs addressing is corrected.
CRPS did not achieve our remarkable three decade long safety record "by accident" but rather through a well-designed training, inspection and preventative maintenance program.
Who doesn't remember their school bus driver... and why is that?
Years after we moved on from our high school graduation, most of us can still remember the driver who took us to school each day way back when. We've all met countless people over the years, but the individuals we remember seem to be the ones who have impacted us for the better; the ones who helped shape us through their actions.
Perhaps it was special moments when our driver made us all laugh, or when they recognized something we really liked and insisted that we tell them all about it, or when they stood up for us with other kids, or perhaps when they just made us feel good about ourselves, knew our name and asked us how school was that day.
We likely didn't grasp at the time just how much effort our bus driver was making to keep us safe and on time for school, but rather it was the personal sense we felt and came to admire about them, and that's what most of us remember years later.
It really is a special kind of person that can safely deliver students to and from school, day in and day out, navigating a mix of traffic, road and weather conditions while at the same time interacting with and becoming a role model for their riders.
Canadian Rockies Public Schools appreciates and applauds all of our drivers for their dedication to our students. It's going to be remembered.
"I grew up on an acreage near Lethbridge and have lived in Canmore for 20 years. My wife and I have two horses that keep us busy and I also enjoy dirt biking. I was initially attracted to bus driving to help augment my income and now I've been with CRPS for 17 years. I like the opportunity to travel around every day and enjoy our great scenery. It's a fun and rewarding job and the kids are great!"

~ Shawn Taylor, CRPS Driver
We're Looking for You!
Are you semi-retired, self-employed, a stay at home parent, or otherwise looking for part-time income?
For those who like a rewarding job, working with a great team, and playing an important part for our Bow Valley youth and communities; school bus driving at CRPS may just be your perfect fit.
What People Are Saying About CRPS Transportation
"Our students came back absolutely raving about their trip, and what a fantastic time they had. They adored and admired your driver tremendously, and gave glowing reports of their experience. Thank you again for all your help!" ~ Jane Crichton, Calgary, AB
"The Town of Canmore has used CRPS buses during school breaks for over a decade to provide transportation for our children's day camps. The buses are clean, on time and the staff have always been willing to accommodate our needs and help us out in a pinch! We love working with them!" ~ Eva Caverhill, Child & Youth Coordinator, Town of Canmore
"Our experience with the CRPS bus services and personnel has been extremely positive over a number of years. Having a variety of bookings for our children and youth programs, we have consistently had friendly and prompt customer services from the booking requests to the arrival and transportation of our staff and participants. The buses have unfailingly been on time, flexible in accommodating minor changes to our schedule and professional on all accounts. I am pleased to have friendly and reliable bus service available locally." ~ Jessica Price, Town of Banff Children and Youth Program Coordinator Community Services
"We used CRPS to transport about 100 students for our Rotary Youth Leadership Program. They provided reliable and punctual service with friendly drivers. We're grateful that one of the drivers went above and beyond in helping a student recover their lost phone.We would definitely use their services again for our program. Thanks CRPS!" ~ Caitlyn Hall-Sharp, Chair of Rotary Youth Leadership Awards
Transportation Office Hours
Please note our summer office hours are 8 a.m. - 2 p.m. weekdays!
Our regular hours during the school year are:
On school days, we are open 7:30 -11:30 a.m., and 1:30 - 4:30 p.m.
On half-day Fridays, we are open from 7 a.m. - 2 p.m. 
Closed weekends and holidays