Canadian Rockies Public Schools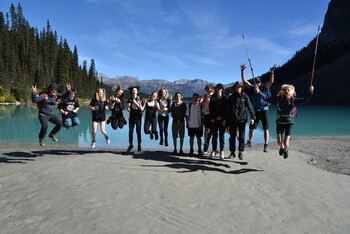 Nestled within the serene and unspoiled expanse of the Bow Valley Corridor, Canadian Rockies Public Schools (CRPS) is a beacon of educational excellence dedicated to providing a holistic education for Kindergarten to Grade 12 students across seven schools. Encompassing the idyllic and enchanting communities of Banff, Canmore, Dead Man's Flats, Exshaw, Harvie Heights, Kananaskis, Lac Des Arcs, Lake Louise, and parts within the Municipal District of Bighorn, CRPS also takes immense pride in warmly welcoming students that hail from the Stoney Nakoda First Nations and various corners of the globe.
With an unwavering commitment to academic excellence, CRPS cultivates a nurturing environment that fosters student growth, discovery, and success. Anchored by a distinguished staff deeply dedicated to public education, CRPS ignites an insatiable thirst for knowledge within each student. Surrounded by awe-inspiring natural splendour, students are offered an extensive array of academic programs and extracurricular pursuits, including remarkable opportunities for outdoor education and an intimate connection with nature. In the spirit of adventure, educational achievement, and community, CPRS empowers its vibrant learning community to triumph in an ever-evolving world.
Our Vision
Creating a better world through transformational education that celebrates nature, diversity, and well-being.
Our Mission
Inspiring the hearts and minds of every student.
Our Beliefs
We believe student learning thrives when:
The needs of students are recognized and come first.
Each student's knowledge, skills, attributes, and interests are identified and developed. 
The learning environment is physically and emotionally safe and secure.
Opportunities are provided for challenge, discovery, action, and reflection.
Each school and the district function as one professional learning community – engaged in ongoing learning.
Parents are well-informed and have meaningful opportunities to participate in their child's education.
There are healthy connections between the schools and their communities.
Relationships between the board, staff, students, and community model mutual respect and support.