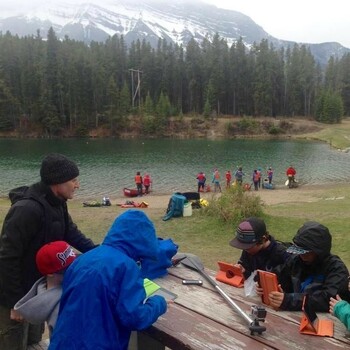 Canadian Rockies Public Schools welcomes both the opportunities and the challenges that emerging educational technology brings as we prepare our children to thrive in the exponentially changing 21st Century. CCHS, BCHS and LGMS have 1:1 partnerships with parents, while all our schools provide a variety of means to access rich online resources, as well as tools for creativity, communication and collaboration. Within our Google Suite platform CRPS staff work with our students on a continual basis around Digital Citizenship learning.  We outline expectations to all of our students as it pertains to respect of others and using all tools and resources for educational purposes only. This partnership reflects the continuing work of Inspiring Hearts and Minds in engaging today's learners and providing opportunities to learn using 21st Century skills to acquire knowledge for a changing world inside and out of school. 
We also continue to invest in student learning by ensuring a robust infrastructure via a Shared Services Partnership with Chinooks Edge School Division and a growing collaboration between several school divisions.
Mission Statement - Information Services Department
The Information Services (IS) department will advance student success through supporting instructional excellence and understanding the CRPS community so well that the department staff are sought for trusted, insightful and assistive solutions. Our support is focused on student learning and development, and providing solutions that promote our teachers, without compromise.
Our Core Values drive and guide us as we serve the school community. As members of CRPS IS, we are committed to:
People: We listen to, respect, and care for faculty, staff, students, and one another, both professionally and personally.

Collaboration: We are dedicated to a constructive, team-oriented environment, gathering varied perspectives, sharing knowledge, and building effective partnerships with key stakeholders.

Continuous Improvement: We strive for operational excellence through the on-going development of the staff and the organization as a whole.

Innovation: We encourage creative and critical thinking in the development of technology services and solutions.

Service: We strive to provide excellent service by being consistent, agile, reliable, and accessible to all.

Transparency: We leverage open communications and thoughtful business processes to be accountable in our interactions and our work.

Canadian Rockies Public Schools supports the Learning and Technology Policy Framework:
Today's generation has seen the rise of knowledge as a key resource of the world's economy.
"Today's generation has seen the rise of knowledge as a key resource of the world's economy. In the future, Alberta's economy will be even more knowledge-based, diverse and grounded in value-added industries. If we are to shape the future of education and not have it shaped for us, we must become more purposeful in our approach to technology. We need to understand what may be emerging, its implications, and how it can be used for education. Ultimately, the power of technology should be harnessed to support innovation and discovery, not simply to aid teaching. We need to engage learners to use these new technologies as designers and creators of knowledge."
What is Assistive Technology?
Simply put Assistive Technology (AT) is any form of technology that assists students in their learning. It can range from low-tech solutions like pencil grips or a highlighter to a high tech solution like speech recognition software or iPads/iPods.

How is assistive technology used?
Assistive technology should be used as support for access, learning and performing daily tasks. In general, assistive technology is appropriate when it compensates for disabilities so that the individual can function as normally as possible. If assistive technology is necessary for a student to have access to educational opportunities or to benefit from education, then it is not a "crutch" but a legitimate support. Some skills are too laborious or taxing to accomplish at a rate or with degree of proficiency to allow for participation in the least restrictive environment. With assistive technology, the student can participate more fully and more closely approximate the levels of achievement and interaction of his or her peers. In general, the use of assistive technology enhances function and increases skills and opportunities.

When is assistive technology appropriate?
Assistive technology may be considered appropriate when it does any or all of the following things:
Enables students to perform functions that can be achieved by no other means
Enables students to approximate normal fluency, rate, or standards--a level of accomplishment which could not be achieved by any other means.
Provides access for participation in programs or activities which otherwise would be closed to the individual
Increases endurance or ability to persevere and complete tasks that otherwise are too laborious to be attempted on a routine basis
Enables students to concentrate on learning tasks, rather than mechanical tasks
Provides greater access to information
Supports normal social interactions with peers and adults
Supports participation in the least restrictive educational environment.