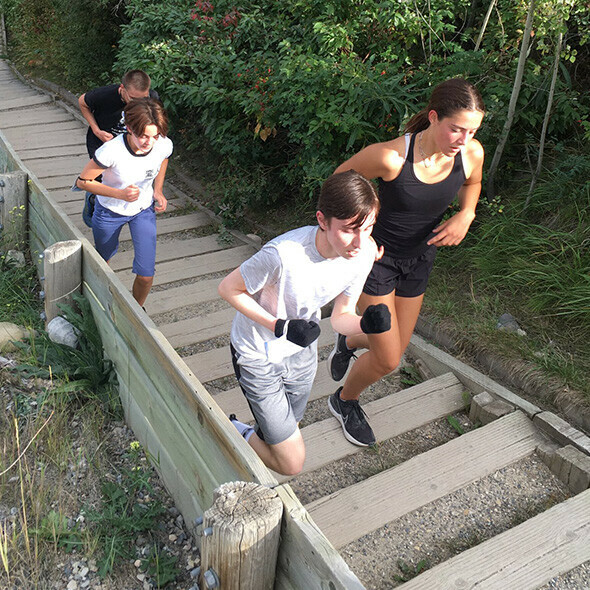 CRPS Joins the Legacy: Terry Fox Run
Legends, like the enduring flame of a candle, continue to shine long after they've been introduced to the world. Terry Fox, an embodiment of resilience and hope, began his Marathon of Hope in 1980 with an unyielding spirit and a prosthetic leg. His mission? To race across Canada and raise awareness and funds for cancer research. His journey, although cut short, ignited a passion and commitment that Canadian Rockies Public Schools (CRPS) cherishes and looks forward to celebrating each September.
Harnessing the collective spirit of unity and determination, CRPS' seven schools - Alpenglow School, Banff Elementary School, Banff Community High School, Canmore Collegiate High School, Elizabeth Rummel School, Exshaw School, and Lawrence Grassi Middle School - are on a mission. Their ambitious target? Raising approximately $10,000 to push the boundaries of cancer research.
CRPS invites Bow Valley residents to amplify our schools' efforts and make a significant difference. By searching for any of CRPS' seven schools on the Terry Fox Foundation website, donations can be made to a school's individual campaign goal, propelling us closer to our collective goal. 
While Canmore Collegiate High School takes the lead with its run on Sept. 21, the spirit of unity will be palpable on Sept. 22 when all other CRPS schools don their running shoes to participate. But, make no mistake, these events are more than mere athletic feats. They epitomize a shared determination, a hope, and a vision for a world unfettered by the shackles of cancer. Every penny raised is judiciously invested into cutting-edge cancer research, ensuring that each contribution fuels the drive to unlock new treatments and, one day, a cure.
CRPS' participation in the Terry Fox School Run is a testament to our unwavering commitment to instilling values of tenacity, community, and generosity in our students. We call upon you to stand with us, to support our schools, and to be a beacon of hope in continuing the remarkable legacy that Terry Fox entrusted to us.
#TerryFoxSchoolRun
BACK TO ALL NEWS