Outdoor Learning Centre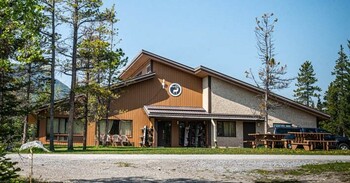 Nestled within the pristine Bow Valley Provincial Park, Canadian Rockies Outdoor Learning Centre, known as the OLC, leads the country in innovative, experiential education programs that empower youth through a connection to their natural and cultural heritage. At its core, the centre's goal is to assist students in seeing the world around them with new eyes; to connect with nature and the cultural stories of the place and to embrace the values of protected areas.
CRPS' Grades 9 to 12 students engage with the centre to participate in mountain recreation, citizen science projects, and service learning. Through activities like canoeing, hiking, and indoor rock climbing, students are introduced to the mountain landscape and discover how nature looks, feels, and smells. Through multi or single-day immersion programs, students learn about the inherent dangers of wild places and are challenged physically and mentally as they experience the rewards of spending time in such a special place. All courses offered by the OLC are designed with safety, learning, and engagement as the top three priorities.
Highlights of the courses offered include:
Outdoor Education 9 
A full semester options course, Outdoor Education 9 offers students the opportunity to sign up to further develop their ecological and leadership skills, connection to the outdoor environment, and how they can protect it.
WILD - Wilderness Inspired Leadership Development 
A five-month, full-semester course, WILD develops students' attitudes, skills, and knowledge in wilderness navigation, first-aid, flatwater canoeing, skiing, snowshoeing, and backcountry camping. This program is an exciting opportunity to create deeper connections between students and our local wilderness, their peers, and ultimately themselves. Offering some unique, challenging and powerful experiences for youth, this program is unique to CRPS and is an opportunity of a lifetime. Through the classroom instruction and four and five full-day immersion out-trips, students gain valuable hands-on skills, outdoor certifications and personal connections to the Canadian Rockies backcountry.
WimWe
Designed specifically for all CRPS Grade 10 students, WimWE (Wim & Nancy Pauw Wilderness Experience) sees students venture out into the Rocky Mountains six times to participate in hiking, voyageur canoeing, cross-country skiing, and to become certified in Avalanche Canada's Avalanche Skills Training (AST) 1. 
Summer CALM
Held in June, July and August, Career and Life Management (CALM) is a five-day experiential course where students engage in learning activities such as land and water wilderness navigation, meal planning, flatwater canoe training, hiking, rock climbing, horseback riding, and journaling, while exploring career choices, decision-making, and team-building. 
Summer CALM is open to all Alberta students on a first-come, first-serve bases. Beginning 2024, the program will be offered in-person or online. To register, see our Outdoor Learning Centre website.