Safety,Training and Maintenance at CRPS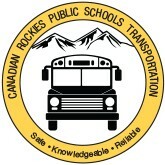 For over 30 years Canadian Rockies Public Schools Transportation has safely transported the students of the Bow Valley to and from school and on their field trips without any serious incidents. Without even one! That is a remarkable achievement and it speaks volumes about the CRPS culture of safety, our staff and our dedication to operating a well maintained and reliable fleet for our passengers.
We believe our passengers deserve a safe and professional driver and that's who they get with CRPS.
The key to that promise is finding the best people, with the right personalities, training them for success, providing the safe equipment and tools they need, and creating a supportive atmosphere to flourish and develop in. When these elements are realized they encourage long-term engagement, and consequently very experienced employees who've progressed far along their paths of professional development; they are, the safe and professional drivers that we promise. The CRPS Transportation Department is licensed to train the MELT (Mandatory Entry Level Training) program for the required class of license to drive a School Bus.
Our analysis of training priorities was developed to counteract the aspects of risk associated with the responsibilities of drivers. That sounds pretty simple until you accumulate a list of those responsibilities.
For example, school bus drivers are mechanical bus inspectors, professional defensive drivers, on-board student managers and safety providers, first-aiders, special needs passenger specialists, government compliance facilitators, record keepers, conflict mediators, routing specialists, bus cleaners, and list goes on. Theirs is a job where thinking on your feet and reacting to changing traffic or human circumstances is commonplace and that's where CRPS training strategies support our drivers making the right decisions every time.
Our training programs are focused on real-life school bus driving, always ongoing and never end. They challenge our drivers to continuously improve, and we monitor our drivers to ensure there are no gaps in their competencies.
Whoever said "if it ain't broke don't fix it" never worked at CRPS Transportation (or took English class), because our preventative maintenance program is designed to identify mechanical problems at their earliest stage and correct them before "they break" and impact safety. Proactive inspection and professional maintenance of equipment is the foundation of our reliability and safe bus fleet.
The school bus industry is extremely regulated. There is simply no room for error. Mandatory inspections form an important component of those regulations and we take that responsibility to heart. Inspections are the best tool in finding potential problems at their earliest stage so they can be resolved without developing any further.
Inspect – Identify - Rectify
CRPS drivers play a vital role in the inspection of our buses.
Drivers are trained do a compulsory and documented inspection of their bus every day before they leave the yard and again afterwards.
They become very familiar with their bus and how it normally performs and are often the first people to become aware of something out of the ordinary that may need attention.
4 complete mechanical inspections a year on every bus
Detailed and documented inspections are conducted on every CRPS bus by journeyman mechanics every 3 months to gain a complete determination about the condition of every component. Regular service is performed on items like oil and various filters and any aspect of the mechanical systems that needs addressing is corrected.
CRPS did not achieve our remarkable three decade long safety record "by accident" but rather through a well-designed training, inspection and preventative maintenance program