Transportation Office Hours
The CRPS Transportation office will be open 7:30am to 3:30pm Tuesday August 23, 2022.
The office will be closed Wednesday August 24th, and Thursday August 25th.
The Office will be open 7:30am to 3:30pm Friday August 26, 2022.
Our Regular hours during the School year are:
On School days, we are open 7:30 -12:00, and 2:00 - 4:30.,
and 7am -2pm on half-day Fridays.
Closed Weekends and Holidays.
Our Fleet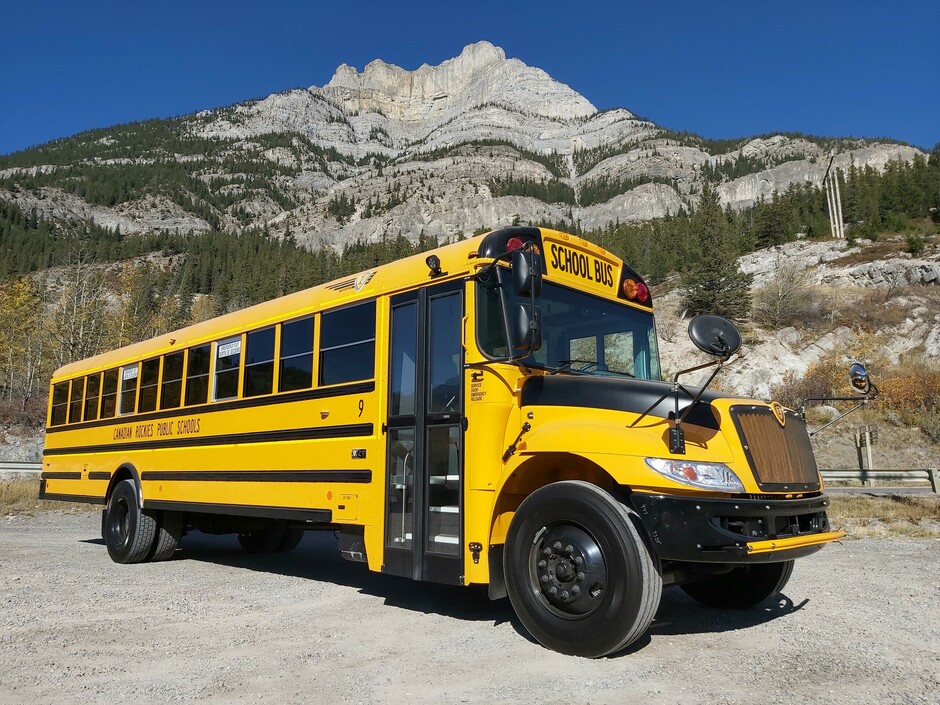 School bus technology has come a long way over the years in providing advanced comfort and safety features. Today's buses offer larger windows, more headroom, comfier seating, and are equipped with much more powerful yet environmentally friendly engines which provide better fuel efficiencies and much lower harmful emissions. CRPS Transportation is proud to offer a modern fleet for the schools of the Bow Valley and our valued charter customers.
Our regular investment in fleet modernization reflects Canadian Rockies Public Schools strong commitment to premier service and offering our passengers a safe and comfortable travel experience while simultaneously minimizing our environmental footprint in the Canadian Rockies.
CRPS Transportation; Always the best choice in the Canadian Rockies!
Safety & Maintenance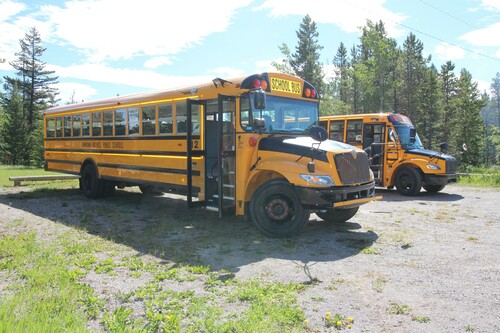 We Believe In What We Do
From the Superintendent of Canadian Rockies Public Schools through the staff of every department resonates a genuine commitment for the safety of our students, whether on the road or in class. Safety and maintenance have always been the foundation of our bus operations. They are visible in our people and in our safe, reliable and well maintained vehicles and they symbolize our culture; a culture achieved by believing in what we do.
Meet Our Drivers
"I grew up on an acreage near Lethbridge and have lived in Canmore for 20 years. 
My wife and I have two horses that keep us busy and I also enjoy dirt biking. I was initially attracted to bus driving to help augment my income and now I've been with CRPS for 17 years. I like the opportunity to travel around every day and enjoy our great scenery. It's a fun and rewarding job and the kids are great!"
Employment
Apply today for a rewarding job, to work with a great team, and play an important part of our Bow Valley youth and communities!
What People Are Saying About CRPS Transportation:
"Our students came back absolutely raving about their trip, and what a fantastic time they had. They adored and admired your driver tremendously, and gave glowing reports of their experience. Thank you again for all your help!"

- Jane Crichton- Calgary, AB
"The Town of Canmore has used CRPS buses during school breaks for over a decade to provide transportation for our children's day camps. The buses are clean, on time and the staff have always been willing to accommodate our needs and help us out in a pinch! We love working with them!"
- Eva Caverhill - Child & Youth Coordinator, Town of Canmore
"Our experience with the CRPS bus services and personnel has been extremely positive over a number of years. Having a variety of bookings for our children and youth programs, we have consistently had friendly and prompt customer services from the booking requests to the arrival and transportation of our staff and participants. The buses have unfailingly been on time, flexible in accommodating minor changes to our schedule and professional on all accounts. I am pleased to have friendly and reliable bus service available locally."
- Jessica Price | Children and Youth Program Coordinator
Community Services, Town of Banff
"We used CRPS to transport about 100 students for our Rotary Youth Leadership Program. They provided reliable and punctual service with friendly drivers. We're grateful that one of the drivers went above and beyond in helping a student recover their lost phone.We would definitely use their services again for our program. Thanks CRPS!"
- Caitlyn Hall-Sharp, Chair of RYLA
(Rotary Youth Leadership Awards)