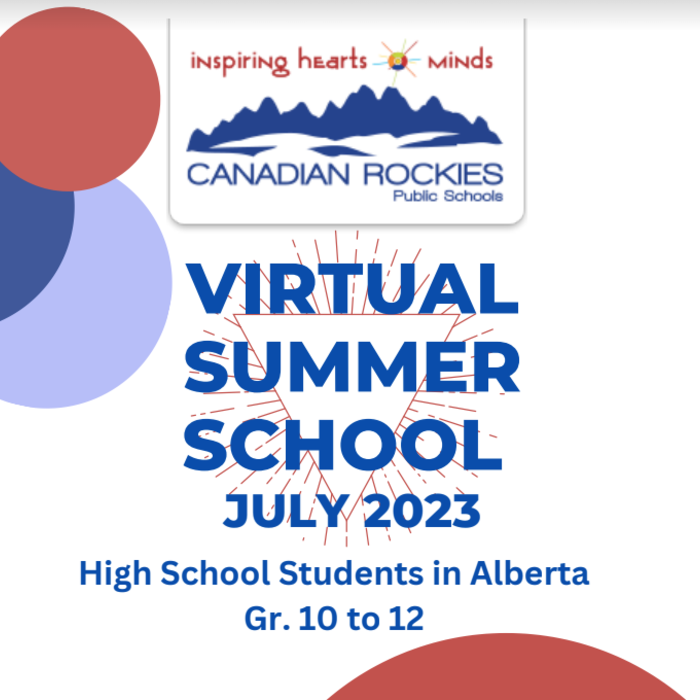 Registration for Virtual Summer School Now Open for High School Students Across Alberta
Virtual summer school is back at Canadian Rockies Public Schools!
High school students across the province are welcome to join us to improve their grades or catch up on missing credits online.
Classes will run Monday to Friday over a three-week period, from July 3-21, when students will be invited to write their finals or submit final assignments before beginning their summer adventures.
This virtual learning opportunity is open to all Grade 10, 11, and 12 students residing in Alberta.
Who Should Attend?
Students who want to retake a course they didn't pass.
Students who need to earn 30 level credits.
Students who want to improve their English through ELL courses or enhance their knowledge of Canadian Social Studies with CND Studies.
Students looking to upgrade a high school grade or GPA for university or college entrance.
Students will need access to a personal home computer to participate in courses. There will be five hours of dedicated school work per day, from 8:30 am to 2:30 pm daily, hosted via Google Hangout meetings as a class, in small groups and/or one-on-one.
Are you ready to invest in your future with this exciting self-directed learning opportunity?
Registration is now open! Contact principal Myka Piekenbrock at myka.piekenbrock@crps.ca or call (403) 707-5553 for more information.
Detailed course descriptions, eligibility restrictions, and additional information is available on our website. Please note sufficient student numbers are required for a course to run.
Please note, diploma exams are not offered by CRPS as inclusive to summer school. If students have not previously written exams they will need to contact Alberta Education directly or register on mypass. CRPS does not offer access to diploma exams in the summer as part of the summer program.
We can't wait to welcome you to our virtual classrooms!