Lee Micheal Chiarizia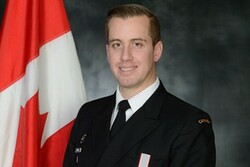 Maritime Surface and Sub-Surface (MARS) Officer in the Royal Canadian Navy
Number of years spent at CRPS: 13 (Kindergarten-grade12)
Graduating class of: 1997
Greatest Accomplishments: Commercial Pilot's License, Bachelor of Arts in English, Pursuing Masters Degree in Business Administration, Naval Officer Professional Qualification (NOPQ).
Lee shares some of his fondest memories of our school system and offers words of advice for both parents and students:
RELEVANCE MATTERS
Mr. Cooper, my high school science teacher. Really taught me to look at science in a different way, and made it relatable to real life. It opened my eyes to how important science was to our every day lives, which is remarkable given I had already had such a good association with science from my previous teachers. From understanding what a super taster was (thanks Uric Acid!), to building class social comraderie through a potluck lunch, he really knew how to instruct and make the subject matter relevant. I will always remember his style and intelligence.
MEMORABLE MOMENTS
My most memorable experience directly related to school had to be my AP English class, with Mr. Forrest. Mr. Forrest gave me my first real exposure to what it took to write a research paper. He even gave us a field trip to the University of Calgary library (a place I would later get my English degree), which proved invaluable learning just how much information is out there.
 
Additionally, the Grade 7 camping trip is something I still remember. We went to Castle Meadows (before the Wolf Pack shut it down), and went on some truly excellent hikes around the area such as Hector Glacier and Rockbound Lake which gave me a lasting appreciation of the beautiful area Canmore and Banff is in.
SHAPING THE FUTURE
CRPS gave me the building blocks to succeed as a student in the real world. While my initial progress as a student in University was slow, CRPS gave me enough understanding of what it takes to succeed in Secondary Education for me to push through and rapidly accomplish my personal educational and professional goals. I am still seeking continual improvement, and will likely do so for as long as I can.
GOLD STAR
I would absolutely recommend these schools to anyone. The myriad of experience available to students in the CRPS is unrivalled almost anywhere else I can think of.  Many times I have talked with fellow colleagues and students about high school experiences, and many get the impression I went to some sort of mountain private school. The effort that CRPS puts in to making a well rounded program for students has paid dividends in my varied interests and wealth of experience. Additionally, since the Canmore area is such a destination for families from other nations, students get an international experience that is unlike any other of equivalent size.
WORDS OF ADVICE
Parents: Take advantage of the many activity / sport programs available now in the CRPS. Many of these were not yet available when I was there, and it would have been an even better experience for me had they been available.
 
Students: Find what you love, pursue it, and keep pursuing it. Though my aspiration to be a Military Officer occasionally fell by the wayside, I never let it fade. Eventually I realized my goal through sheer determination (and the occasional push from my parents and peers). Whatever it is that drives you, whether it is a skill trade, a career in the Arts, a career in Academia, or a professional designation, let it carry you through the tough times.
Chandra Crawford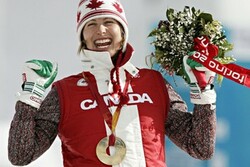 Cross Country Ski Racer
Olympic Gold Medalist 2006, soon-to-be 3 x Olympian
Number of years spent at CRPS: 12
Graduating class of: 2000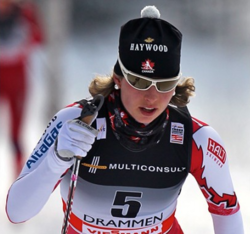 Chandra shares some of her fondest memories of our school system and offers words of advice for both parents and students:
MEMORIES FOR LIFE
I was part of the generation that experienced new schools as they were built. When I started grade one, K-12 was in one school where Lawrence Grassi now is. My memories of that time are of playing on the Monkey Bars, making up magical worlds in the trees near Stan Rogers stage, and stretching my legs against the wall of the school in high-waisted spandex with fireworks all over them at early morning run club, which started in grade 3. 
SHAPING THE FUTURE
I love to ski race at the highest level and enjoy the intensity of focusing all my abilities into the pursuit of excellence in a single direction, BUT the details that make my life meaningful beyond that are people I met and skills I developed during my 12 years at CRPS. French Immersion was great for my siblings and I and I'm eternally grateful for the language work in my formative years. I enjoyed the music programs; I was in the choir and we sang an entire Beatles catalogue in matching tie-dyed shirts on Stan Rogers stage and I played saxophone in jazz and concert band right up until mid way through high school. The key skills of doing presentations and public speaking that are now a big part of my work with Fast and Female can be traced back to 4th grade book report presentations or a 7th grade monologue as Crocodile Dundee in drama class. Photography work and the chance to process prints in the darkroom in the Through The Lens program in high school forever changed not only the way I see light and shadows but also showed me how one person's shared enthusiasm and belief can change the lives of others. 
In early high school I learned skills for life when the teachers would use their time to impart the value of world travel (by showing slide shows of trips undertaken at the peak of the mullet-style haircuts glory) or teach us how to identify propaganda through careful analysis of advertisements we brought to class. Later, when teachers were preparing us for provincial exams, the entertainment factor remained high when a certain biology class would exceed 100% attendance as kids who weren't even in the class would take a seat to hear the humour brought to lectures on the reproductive system.
THUMBS UP
I would definitely recommend the Public schools of Canmore to any family. This area seems to attract some really interesting people. I think the families that live, learn and teach here all display a certain ardour and creativity to make a go of it in this place, and that makes for a richly engaging environment at school.
WORDS OF ENCOURAGEMENT
For the parents and the students making choices about the CRPS I can only stress to take advantage of every opportunity. As a student I enjoyed the broad range of possibilities I was exposed to and was able to dive into so many great directions. There is a ton to get into. Life really is what you make it when you stay open and active with the community!
Megan Fink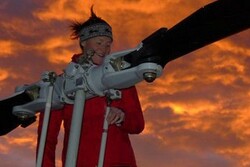 Helicopter Pilot
Number of years spent at CRPS: 13 (K-12)
Graduating class of: 2006
Greatest Accomplishments: Made flying my career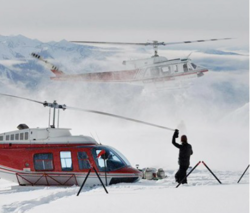 Megan shares some of her fondest memories of our school system and offers words of advice for both parents and students:
TEACHERS THAT MAKE A DIFFERENCE
The best thing about Canadian Rockies Public Schools is the incredible staff. Being in such an incredible place (that being the Bow Valley) we are so fortunate to attract the most incredible and unique individuals that endure huge competition to start their careers here. They bring such awesome passion and charisma into the everyday school experience. However shoutouts where they're due, Astrid Heidenreich, Donna Rankin, Jodi Wanless, Rob Vanderlee, Bill George, Monica Gackle, Cate Scott, Rod Sanderon, Brenda Davidson, Carney.   
MEMORABLE MOMENTS
I love all of the extra curriculars. Get involved with EVERYTHING students, it's so so good!
SHAPING THE FUTURE
When I think about how CRPS shaped who I am today, I would have to go back to the staff. I'm very much a believer that your community raises you and these folks certainly had a huge collective impact on my life. They did such an excellent job of really making you think and re-think. Everything. From how you treat the people/world around you to how you are approaching that paragraph.


GOLD STAR
I would highly recommend these schools, for countless reasons. It will get your kids thinking, it will round them out into some very interesting people.  
WORDS OF ADVICE
Get involved to get the most out of it, students and parents.  Sports, clubs, committees, have fun with it.
Sarah Jane Murphy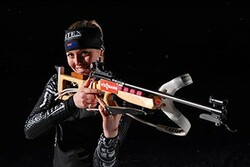 Full- time athlete, diploma in adventure tourism management,
and promoter of happiness
Number of years spent at CRPS: 13 (Kindergarten-grade12)
Greatest Accomplishments: 2010 olympic athlete as New Zealand's first representative at the Olympics for biathlon, learnt German and Italian during my 5 years of racing world cups, raced the Arctic Circle race in Greenland- placed 3rd, represented Canmore collegiate in our sister town of Higashikawa, Japan, being voted humanitarian in both grade 8 and 12 by fellow classmates, received the citizenship twice from the rotary club.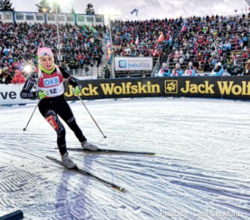 Sarah shares some of her fondest memories of our school system and offers words of advice for both parents and students:
TEACHERS THAT MAKE A DIFFERENCE
I was lucky to get along well with all of my teachers, and although I missed 100 classes my grade 12 year because of biathlon, all my teachers were very supportive of my sporting career. It's impossible to choose one story or choose one teacher that has stood out - for example, one helped me paint my old van as the nz biathlon vehicle, one signed me up for a training camp where I met many Olympians and really pushed me to go for the Olympics, and one taught me the patience of working with others in difficult situations. We did do a talent show presentation involving some of the teachers which was hilarious, albeit confusing. The teachers were great sports though :)
MEMORABLE MOMENTS
My most vivid memory is the fear I had moving from grade 8 in the middle school, to grade 9 in the high school. In the end, it was a smooth transition and the teachers were amazing, but I will not deny I was very scared! My favourite class was mechanics, where I learnt a lot of new skills which I still hone into today (can't quite say the same for my chemistry!), and where the women were a lot of time better than the boys! I think I did every class I could in high school, and I have amazing memories from every single one- building snow caves, rapping about the effect of drugs in biology, and making fools of ourselves in social studies with video presentations for mr. George.
SHAPING THE FUTURE
The school system in Canmore is absolutely amazing, and without it, I would not be the person I am today. 7 years later and I am still in contact with many of my past teaches, even from kindergarten. The support the schools showed for athletes made it possible for me to reach my dream of competing at the Olympics, and pass school with honours. They understood the importance of balancing a healthy lifestyle and education.


GOLD STAR
I would highly recommend these schools to every parent and family. You are a person in Canmore, not just a name, and they are prepared to take the steps help you succeed in life and schooling. The backdrop is perfect to feed the adventurous students, the artistic students, the crafty students, and the dedicated students, and even motivate the lazy students!
WORDS OF ADVICE
Go for it and try everything! It will be over fast, and If you can fit it all in, do it! Make friends with the janitor- I did, and 6 years later he remembered me and said having a student say hello to him made his day that much better! To the parents- don't make your children peanut butter and lettuce sandwiches. Thanks dad :)